Cameroon has failed to qualify for the 2018 World Cup in Russia after the draw against Nigeria in a match counting for the World Cup qualifiers. This means that Cameroon only has three points in their group after 4 matches and has no chance of ending the qualifiers on top of their group.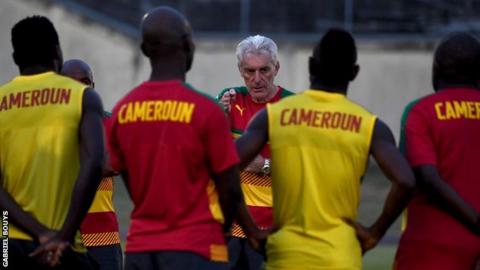 Cameroon coach Hugo Broos said that this is a major disappointment for the team as well as the country as they were hoping to make it to the next World Cup. He believes that this is an opportunity for the team to rebuild from scratch and to ensure that they are ready for the next competition.
Cameroon started the match poorly and surrendered possession to Nigeria in the early stage of the game. It was therefore natural that Nigeria took the lead in the 30th minute through a goal from Moses Simon.
Simon took advantage of a fail clearance by the Cameroon defence after good work from Odion Ighalo and Victor Moses. They will reach half time with the score 1-0 in their favor.
After the break, Cameroon improved and pushed Nigeria into their own half. Hugo Broos sent in Vincent Aboubakar and Christian Bassagog in an attempt to change the outcome of the game. They will be placing intense pressure on Nigeria, and they will concede a penalty after a foul of their goalkeeper.
Aboubakar will score a goal on the penalty and bring Cameroon back into the game. Unfortunately for them they will be denied twice later on by the Nigeria goalkeeper and will fail to score another goal that would have kept their chances of qualification alive.
Aboubakar stated after the game that this was a disappointing result as they would have hoped to win this important qualifier game against Nigeria